Dalla Customer Experience all'Employee Experience
Come abilitare il potenziale dei collaboratori e diventare leader della CX? 
È passato molto tempo dall'anno di pubblicazione del Cluetrain Manifesto. Era il 1999, molto tempo fa. Ma rimane fondamentale: in particolare, tra i tanti pregi delle tesi scritte da Rick Levine, Christopher Locke, Doc Searls e David Weinberger riguardo i cambiamenti sconvolgenti nel mondo della comunicazione e delle organizzazioni della fine degli anni novanta, è evidente la loro capacità di avere unito i puntini. Parlando dell'impatto del Web nelle interazioni tra un'organizzazione e i propri pubblici esterni (consumatori attuali e potenziali) e interni (dipendenti, collaboratori e business partner). 
Un approccio così permeabile rispetto ai confini organizzativi è ancora oggi argomento di attualità e interesse per professionisti e analisti. Sono tante le analisi che posizionano come urgente l'abbattimento dei silos tra funzioni aziendali, in particolare quelle che lavorano con i pubblici interni (HR) e quelle che si rivolgono al mercato (Marketing). Mai come oggi, esterno e interno sono strettamente connessi tra loro. Abbattere tali silos permette la diffusione del mindset digitale, elevandolo a cultura e filosofia aziendale. Le buone esperienze fatte vivere ai pubblici esterni, nascono dentro l'azienda. Coerentemente, le esperienze nel rapporto con i consumatori devono trovare corrispondenza con quelle rivolte ai dipendenti, cioè verso i clienti interni all'impresa. Cosa implica tutto questo?  
Q

uali sono i costi e i benefici

 

di una

 

employee

 

experience

 

e customer

 

experience

?
Una risposta illuminante a questi interrogativi è data dalle pratiche di alcune aziende-piattaforma di frontiera anche dal punto di vista organizzativo. AirBnB assicura esperienze felici per tutti i dipendenti grazie ad alcuni passaggi[1]: 
Il primo è stato quello di rinominare il Responsabile HR come 

Chief

 

Employee

 Experience 

Officer

. Un ruolo che rompe le distinzioni tradizionali tra Risorse Umane, Marketing, Comunicazione, Responsabilità Sociale.

 

Il secondo è consistito nello sviluppo di un memorabile workplace esperienziale.

 

Per concretizzare il mantra di un luogo di lavoro immersivo ed esperienziale riassunto dall'hashtag 

#

BelongAnywhere

, oltre a consentire ai dipendenti il lavoro da casa, il 

workplace

 di 

AirBnB

è stato uno dei primi a mescolare le linee tra casa e lavoro. Ha incluso infatti una cucina, una libreria, una caverna in stile nerd, un luogo per meditare, una palestra per fare yoga, uno spazio per scrivere sui muri e un grande anfiteatro con splendide piante in un atrio alto tre piani. 
L'esperienza è arricchita da ore mensili di volontariato a favore delle comunità locali; mentre quella intellettuale può passare ad esempio attraverso attività di formazione co-create in crowdsourcing rispetto alle competenze e alle conoscenze necessarie per lavorare bene.

L'esperienza intellettuale è stimolata da percorsi di formazione pensati e creati con i dipendenti e il crowdsourcing interno sulle competenze e le conoscenze di cui essi avranno bisogno per avere successo nel lavoro, e nella vita.

 
Per AirBnB il modo migliore per alimentare e rendere sostenibile la qualità dell'esperienza dei clienti esterni sta nel rendere invidiabile quella dei clienti interni. Appunto, i dipendenti. 
Perché l'

employee

 

experience

 

ha la stessa importanza della

 

customer

 

experience

?
Il ruolo dei dipendenti e dei collaboratori aziendali, e in generale delle persone che vivono l'organizzazione dall'interno, assume un'importanza cruciale rispetto alle interazioni e alle esperienze veicolate da un'azienda anche nel momento in cui la stessa si posiziona e agisce sul mercato in quanto marca. Edelman Trust Barometer è lo studio annuale dell'omonima società globale di relazioni pubbliche, che misura il livello di fiducia generale degli individui. Le ultime edizioni hanno visto la voce dei dipendenti come uno dei touch point aziendali più credibili ed efficaci: un indicatore importante del ruolo delle persone non solo in quanto bravi lavoratori, ma anche come efficaci e appassionati advocate delle interazioni verso i consumatori finali. Ciò si verifica anche perché le stesse persone non si trovano esclusivamente nel ruolo di storyteller, ma soprattutto nella posizione unica di storydoer, vivendo l'azienda da protagoniste e 24/7. 
Risorse umane coinvolte, appassionate, storyteller. Si tratta comunque di una sfida virtuosa ma ancora complessa e in divenire – almeno, stando alle ricerche Gallup che riportano come un sorprendente (e allarmante!) 87% delle persone non sia ingaggiata rispetto al posto di lavoro. Il valore ottenuto dal risultato di un coinvolgimento di questo tipo è strategico per la competitività organizzativa. 
Per progettare esperienze significative e rilevanti per i clienti, bisogna partire dalle persone nell'organizzazione: l'employee experience viene prima e attiva la customer experience. Pensa: quante delle attività riguardanti i dipendenti hanno fatto propria l'idea di rendere la loro esperienza sul luogo di lavoro altrettanto eccezionale e partecipativa quanto quella dei clienti?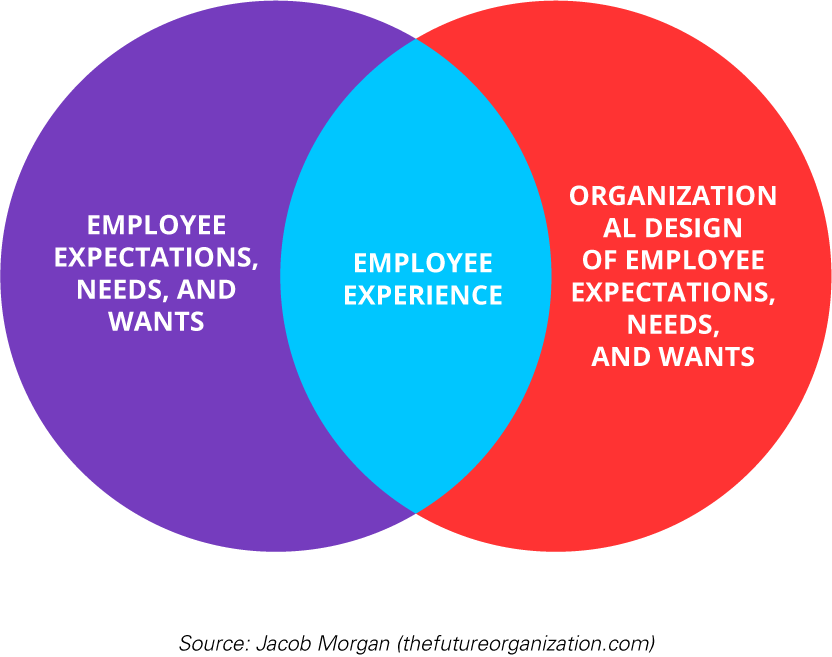 Come può un'azienda diventare un ecosistema fluido e costantemente stimolante per i suoi dipendenti?
Trasformare il posto di lavoro, però, non basta. Se le aziende vivono in un ecosistema, esso va continuamente alimentato di nuovi nodi e connessioni. Di ritorno da un viaggio di lavoro in Cina, nel suo articolo 12 Patterns of Platform Design to kickstart Innovation Strategies (https://stories.platformdesigntoolkit.com/12-patterns-of-platform-design-to-kickstart-innovation-strategies-500c6dec9c3b) Simone Cicero osserva: "c'è un tratto comune nelle aziende che ho incontrato e che stanno intraprendendo una trasformazione platform-ecosystem. La trasformazione si fonda sulla consapevolezza che le unità, i team di lavoro e i dipendenti sono chiamati a diventare imprenditori. Una vera realizzazione del dipendente, secondo queste realtà, si può solo avere attraverso espressione del sé, responsabilità e autonomia". Il Gruppo Haier è una multinazionale cinese leader nella produzione di elettrodomestici, i cui collaboratori sono continuamente stimolati a generare micro-aziende e startup per sfruttare le tante opportunità all'orizzonte. Ciascuno diventa artefice non solo del proprio destino ma anche di quello dell'intero Gruppo, che sviluppa organicamente il proprio platform brand. L'azienda non offre più lavoro alle proprie persone, ma una serie continua di opportunità rispetto al contributo di ciascuno. L'organizzazione aziendale diventa fluida, in perpetuo divenire: "il futuro si appresta a essere più legato alla continua necessità di organizzare, piuttosto che all'organizzazione". Sfida al miglioramento continuo che viene letta così dal dipendente Fu Haining: "all'inizio può essere doloroso, perché la cultura della sfida continua può farti percepire che ciò che hai fatto o che hai raggiunto non è apprezzato. Ma poi inizi a realizzare che questo è ciò che serve per stare al passo, in un mercato estremamente competitivo" (www.strategy-business.com/article/00323?gko=f6212). Creazione di un ecosistema di dipendenti, trasformati in imprenditori e diventati parte integrante della filiera produttiva. Un argomento su cui in Italia siamo pionieri grazie a casi come Loccioni. L'azienda marchigiana di meccatronica – il Presidente Enrico Loccioni ama chiamarla 'sartoria tecnologica' – ha applicato questo approccio già molti anni, fa diventando un caso eccellente imitato e seguito in tutto il mondo. 
Il rischio opposto di un approccio di questo tipo, se disegnato e implementato con un mindset inadeguato? Ridurre lo sforzo a un'operazione retorica, di sola facciata.