Digital learning that makes the difference:
When safety becomes PHYGITAL
  
Imagine standing in line at a supermarket waiting to pay for your groceries. Suddenly, amid the confusion of the busy counters on a Saturday afternoon, the gentleman in front of you appears to be genuinely concerned. He turns towards you and with a rather loud voice and a sense of urgency in his tone, he explains that he immediately needs your personal information to verify the safety of your credit card: it might have been cloned!
What would you do?
Without any doubt, you would think twice before giving your personal information to a total stranger. Probably you would act defensively and try to get away from the situation as soon as possible. Could you imagine? No person would ever fall into such a trap while grocery shopping in real life.
In our physical world, we tend to protect ourselves from potential threats through defensive behaviours, while in the virtual world that may not always be the case, as we often forget that there are other billions of users connected daily.
Why is that? Digital technology and its services have made a tremendous impact on our lives, for example, did you know that…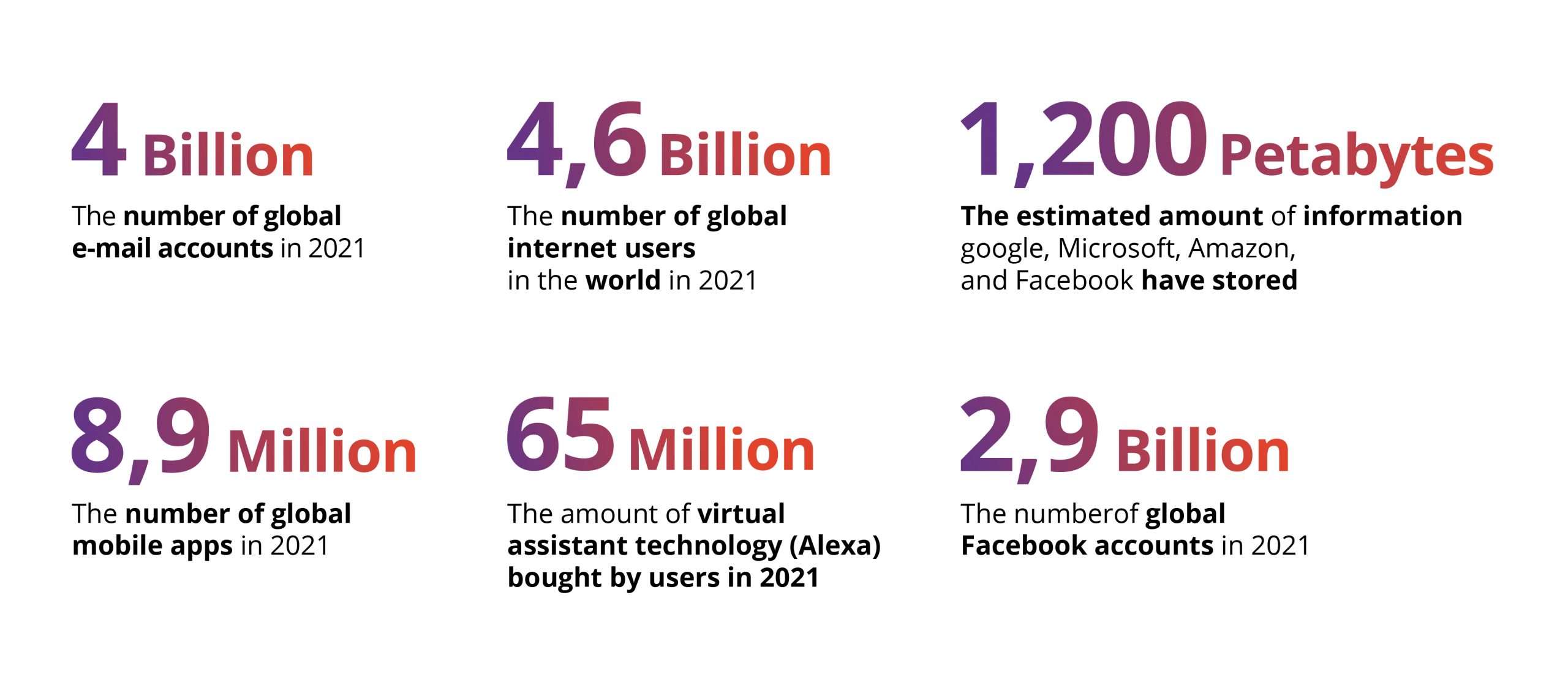 As we can see from this data, we have fully embraced digitalization in our lives and the internet has become a part of our daily routine. Think about it: Every day, we stay in touch with friends and family, work, study, play, shop, and pay bills via a mobile device or a computer.
While the internet offers us many benefits, it also exposes us to a number of security risks that we are not even aware of. These include the integrity of our identity, our privacy, and the security of our electronic communications, especially financial transactions, as well as the potential exposure to offensive and illegal content and behaviour.
While in real life we protect ourselves from potential risks by, for example, installing an alarm system or securing our bicycle with a chain, we should do the same in our digital world, as the Internet has become the easiest, cheapest, and fastest way to steal and gain unauthorized access to our personal information. Think about it: protecting our digital security is something that can no longer be ignored. We need to be aware of it and develop healthy habits in this regard as well.
The 2020 pandemic has accelerated this development: not only did we have to move our office work to our home, but we also had to stay connected all the time.
For these reasons, organizations' cybersecurity can no longer be the responsibility of only the IT (Information Technology) department in companies but must also involve the awareness of each one of us: in many cases, simply having antivirus software or a firewall is not enough, because it is the employees who take the first step to protect themselves against potential risks from cyberattacks.
In 2021, when we were asked to supply cybersecurity training to employees of a multinational pharmaceutical company around the world, we at OpenKnowledge took on the challenge and developed the idea of a modular digital learning path that would promote conscious digital readiness in our daily digital world.
The company already had mandatory cybersecurity training for all employees internationally. With the advent of new ways of working remotely, the company felt the need to increase, promote and spread digital awareness. In response to this need, we at OpenKnowledge decided to provide employees and their families with new tools and best practices to protect themselves when working remotely, so that their data is safe, and all sensitive assets of the company are protected.
The key to the OpenKnowledge approach
The challenge for us was to create an engaging and interactive learning experience.
What did we do and how did we achieve the project outcomes?
We developed 6 digital learning pills, each 15 minutes long, to spark curiosity and maintain the user's attention throughout the entire training. For the training to be effective, we worked on five key elements:
use of a flexible and responsive development tool

modularity

and briefness of the content provided
focus on aims and outputs for each module
use of engagement and involvement techniques to enhance and exploit user interaction
use of real-world scenarios in which the users can confront themselves and act
Another key element is the use of captivating storytelling and concept: we imagined a small microcosm, like that of an apartment building, where the user is called to help the neighbours struggling with different types of cyber threats and attacks.
Every learning pill introduces a fundamental aspect of the cybersecurity topic in a targeted and easily understandable way. It follows a specific design and structure:
● 
An introduction that aims to provide information on a key topic.
● 
An interactive section where users can compare their level of digital readiness (self-assessment) and, through branching scenarios , see the immediate impact of their decisions.
● 
A conclusion with the "main take aways"; ; the information in this section is presented as an interactive infographic and provides a summary of best practices, integrated with the company's internal policies.
The digital transformation has led to an increase in cyber-criminal activities, each one different from the others and with its own distinct characteristics. Therefore, we decided to focus on a specific and concrete topic for each learning pill.
After providing a general overview of topics related to privacy and the overall digitalization, we went ahead to take a deep dive into the mobile sphere, focusing on the pitfalls that can be hidden behind the "black mirrors" that are truly present everywhere. Finally, we turned our attention to Social Engineering techniques: what is social engineering and how can we recognize and unmask these techniques?
A central part of the course covered the importance of protecting oneself when working remotely: companies had to implement remote working policies, thus accepting new challenges both from an organizational and a security point of view. In fact, remote working does not mean being safer when working online… on the contrary, it can often imply being more responsible for one's own actions.
The more aspects of our daily lives we share on the internet, the more personal information we give to the outside world. And the more personal information we share over the web, the more chance there is of a hacker getting into our world and causing us potential damage. Therefore, at the end of the training course, we considered to also talk about all the risks involved in oversharing, when it comes to sensitive data.
The aim of each pill is therefore to create a collection of tips & tricks and best practices that anyone can make one's own, to become an everyday hero able to expose potential attacks, recognize hidden risks and protect themselves, their families, and colleagues from potential digital threats.
Our approach to the digital world should not frighten us: through new awareness, consciousness, and behaviours, it is possible to make our virtual world increasingly safe.
"Act as if what you do makes a difference. It does"
William James .
Benedetta Milani, Monica Cucchi