Internal communication: our answers to the new challenges
In the last few months, together with face masks, internal communication continues to be on everyone's lips. While some people just talk about it, we at OpenKnowledge are reflecting on the ongoing transformations in order to integrate them into our approach.
The current pandemic got us involved into an unprecedented, uncertain and rapidly changing situation: before returning to normal (or not, in some cases) we are going to face several phases. In this scenario, internal communication, as an "institutional and reliable" tool that allowed all corporate teams to share messages in a transversal and correct way, became a key element. The last few months have been an extraordinary opportunity to elevate internal communication to a more profound level: it was called to be even more timely despite the uncertainties, and to simplify complexity by communicating with transparency and involving employees even more. These challenges show the new priorities of internal communication, but also that it's necessary to rethink the pillars on which it is based to manage them successfully.
We need to rethink internal communication
A recent publication by IC Kollectif, a non-profit organization that promotes the strategic management of internal communication, stands out among the studies related to this topic. The repertoire they provide is an updated collection of materials, both professional and academic, addressing internal communication from different points of view, all linked by the need to be rethought.
But what does it mean to rethink?
We asked ourselves: if it needs to be rethought, how should we do it? We thought of two possible interpretations: on one hand there is the opportunity to "re-weigh" internal communication to improve it, as the etymology of the verb rethink suggests. On the other hand, there is the opportunity to find something new that will radically transform it.
In both cases we are talking about the need to change internal communication and build more empathy towards employees, but it's already detectable a subtle distinction. Let's see what it is.
For everything to remain the same, everything must change: promoting empathy to bring people where you want them to be.
Let's start from the first interpretation: "re-weigh" internal communication to improve, refine and regenerate it.
This approach is useful where, during the most intense phase of the pandemic, a satisfactory performance of internal communication has already been observed in terms of promptness, action and sensible use of tools (news, dem, email, videos, infographics, podcasts).
These are all necessary but perfectible elements, given that in emergency situations there is a significant reduction of the human aspect to give substance to information. If we were to synthesize this observation through our three-phase methodology, inform, engage, do, this would be the weight of each phase.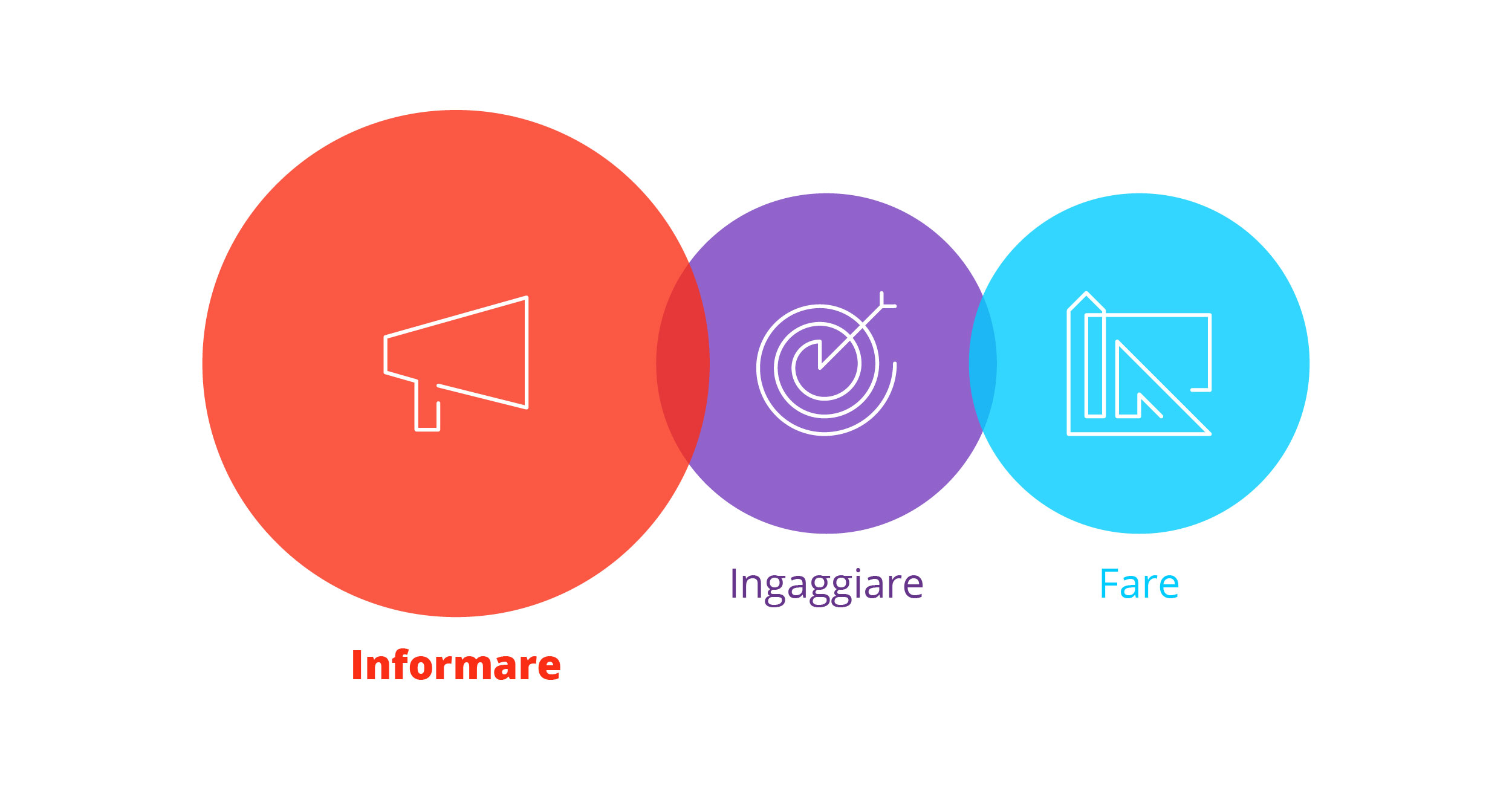 A natural imbalance in times of emergency, but equally risky: in fact, if on one hand it satisfies the information needs of employees, on the other hand it can generate excessive adherence to company objectives and policies, leading people to be where the company wants them to be. This necessity, enhanced by the current situation, must be combined with awareness: more information does not necessarily mean greater empathy (How to guide employee & internal communication, Edelman).  A further effort is therefore needed to balance the remaining phases.
For everything to change, everything must change: empathy to bring people where they need to be.
The second interpretation reformulates the famous phrase of Il Gattopardo in "For everything to change, everything must change", releasing internal communication from the definitions that have characterized it until now. Although this approach may appear extreme, it seems to be the option that will give space to "engage" and "do", backing up the rising expectations of internal communication.
Nowadays, people have greater awareness about the role of internal communication and they understand that, in addition to having an important value on decision-making tables (How to secure a seat at the table post COVID-19), it means a lot for their working life (10 Shocking Internal Communications Stats You Can't Ignore).
This acknowledgement translates into a rise in expectations and a greater demand for employee involvement. An involvement that must not only consider the geographical location of work, the time spent in the company or the job title, but it must also explore other parameters.
Post-lockdown personas – The importance of listening
If before the pandemic one of the main missions of Internal Communication was to communicate the right message to the right person through an accurate target segmentation, now the challenge is to develop an empathic communication with all employees.  We need to create empathy to get people not just where you want them to be, but where they need to be.
The "where" is not to be understood as a physical place, but as a communicative need that changes along with the impacts that the pandemic has caused on people.
Considering the game-changer and turbulent scenario that we are living, it is not easy to stop for a moment and listen, despite the numerous tools available (from the most complex surveys to pulse surveys, from focus groups to more participatory workshops). It's not easy because you need to be able to put sentiment at the service of communication.
A great opportunity for internal communication comes into play at this critical point: a tool for personas, in other words the fictitious but plausible reconstructions of employees. Below, a series of possible personas proposals.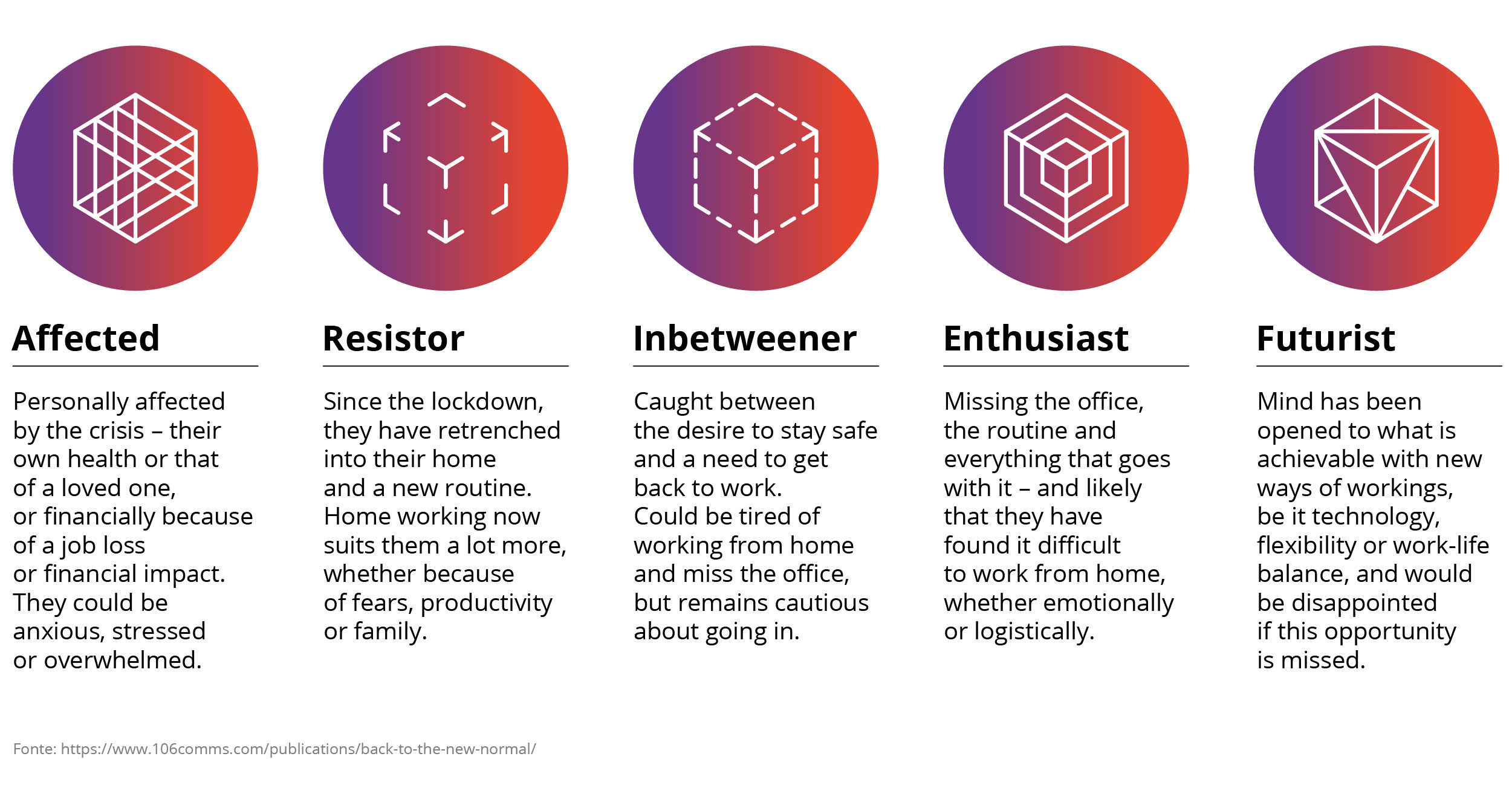 What does the adoption of personas mean within an internal communication plan?
Semantic change: the words used in news, newsletters and as narrating voice of a video are significant objects. These can be slow and fast, heavy and light, rigid or flexible. Their use in any internal communication tool helps to create a narrative, in other words an interpretative framework inside which the employee finds himself. Going back to the hypothesis of personas proposed above, it is clear that expressions that draw from semantic fields related to recovery, opportunities or to the future are not suitable for those who still feel fear and uncertainty.
Personalization of initiatives: engagement initiatives, protagonists of the "engage" phase, aim at putting the employee in an active position. Within the context of the current situation, internal communication must bring people together, not divide them.
This is possible by working on it in two ways, following two separate directions: on one side, internal communication must nourish a sense of belonging to the company, on the other it must act as a glue between people and for people. In light of this consideration, listening to experiences and the related construction of personas, is even more functional to put on track not only company-driven but people-driven engagement initiatives.
For example, "universal" engagement initiatives in which employees participate bottom-up could be implemented as well as more personalized ones, which could be based on their characteristics and sentiment.
A "back to normal" for internal communication is possible, but with the condition that there will be a new awareness of the value of empathy and of the impacts it can have on communication outputs. Keeping these aspects in mind represents a useful starting point for understanding that even the methodologies in use must evolve in an increasingly V.U.C.A (Volatile, Uncertain, Complex, Ambiguous) world. An example? The inform-engage-do methodology that characterizes internal communication plans for our customers will increasingly integrate with a dimension dedicated to listening to employees and adapting initiatives in line with their sensitivity.

The "inform" phase could thus be integrated by a previous "hear me" activity through which the stylistic code of the communication plan can be differentiated. To address an "enthusiast" nostalgic of the office who was waiting for nothing but going back, the message should express the same enthusiasm, while for the "resistors" it should be more reassuring.
The "engaging" phase, if understood as an extended phase of the first, could become an opportunity for participation, but also a moment to get to know ("know me") the deepest perceptions of employees. For example, the "enthusiasts" could be involved in the creation of a photo album "Your home office" so as to recreate a home version of the office, while for the "resistors" the same initiative could be declined into a video where they can illustrate the benefits of working from home.
In light of these liaisons, the "doing" phase is enriched by a broader meaning that we can call "value me". It is the value that remains in the heads and hearts of employees.