When employees become one of the company voices
  
"Customer will never love a company until the employees love it first"
Simon Sinek
For us that are involved in communication and working within organizational contexts, it is now clear how interconnected the internal and external dimensions of the enterprise are. Technological developments have significantly altered user experience, dynamics and communication styles, creating new spaces of participation for new actors.
Within this scenario, organizations have learned, or are learning, to evolve their strategy to best seize the opportunities related to digital transformation, investing in the relationship with their employees – whose role in the life of the company has acquired new forms – and identifying new opportunities for visibility and transmission of their identity.
In this context, brands have become interested in Employee Advocacy, i.e., the possibility of involving their employees in the implementation of the company's communication and positioning strategy, making them the first protagonists of the narrative that the organization wants to make of itself towards its internal (the entire corporate population) and external (customers, potential candidates, other stakeholders) audience.
Why do companies need Advocate employees?
Employee Advocacy has different areas of applicability and leads to different results depending on the objective we set. It ranges from telling the story of the product or a service, to the disclosure of the company's expertise and innovations, to support corporate reputation or to reinforce the company's positioning as an employer.
The results, compared to more traditional communication actions, confirm how these projects work and act in the audience's perception in a positive way. Specifically, through their network an Advocate generates conversations and interactions around topics of their interest. It plays a key role for the company, as its message is:
● 
Believeable. The shared messages are believed to be more trustworthy than the same messages conveyed by the company's official channels, which is an important factor in developing a benevolent and proactive attitude in the audience. The relationship of trust that can be established has a significant impact on business performance, and on the company's positioning in the market.
● 
Authentic. An Advocate's narrative has all the value of experience. An employee experiences the company from the inside, thus being an integral part of its culture and able to tell its values genuinely, better than anyone else.
● 
Amplifed. An Advocate can share messages with an audience of users other than those reached by the company's official channels; this allows the listener base to be extended significantly, and the power of everyone's activity is easily understood.
Employee Advocacy: what is it and what are its effects?
For those working in the field of communication and brand positioning, it has become natural to think of employees as actors who can tell the story of the company by becoming a privileged channel of dialogue with the public. In fact, who better than an employee can express, in an authentic way, what it means to be part of a company and what its values are?
Trying to nurture the relationship with employees, working on the employee experience as an enabling factor for engagement, means, from this perspective, working on people motivation not only to improve their productivity levels, but also to generate reputational value and an image advantage. In short, the more employees feel involved and engaged in the goals and life of the company, the more they will be willing and inclined to promote it both in the internal context of the organization and to external audiences, becoming role models on the company's values, strategy and mission, or reference points on a specific content.
Having Advocates brings a number of benefits to the company: messages shared by employees on their own channels have a significant impact, expanding corporate organic coverage by 200% and increasing profitability by 23%, within a network where 92% of people say they trust the opinions of their "peers" more than those of any other form of advertising.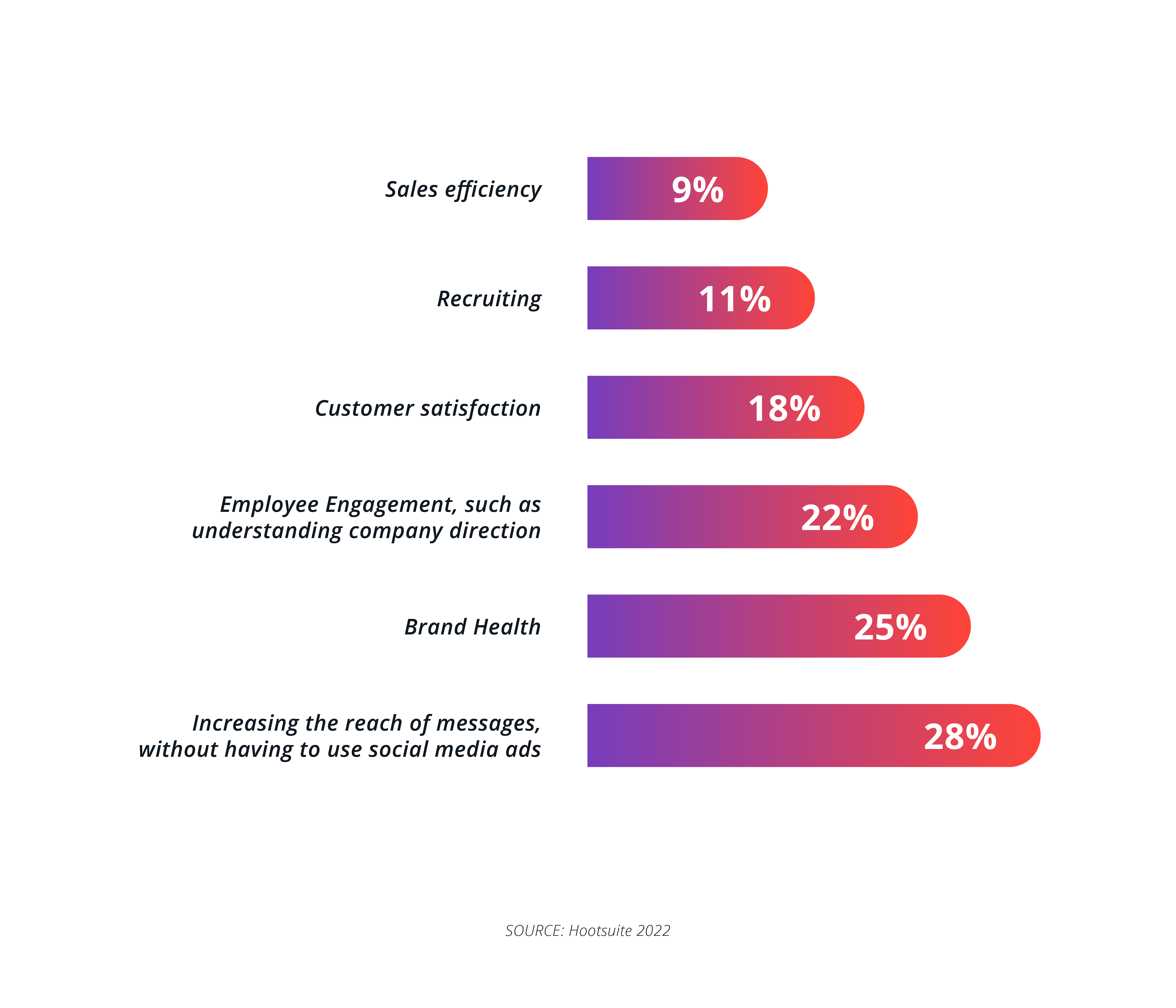 The benefits in terms of visibility are not the only ones associated with the project, and the organization is not the only one to benefit. Positive effects are also generated for the employees who get involved as Advocate that are not negligible. We can summarize the benefits of a good Employee Advocacy program in the following points:
Increased corporate reputation. Communication on Advocate networks makes it possible to reach a huge pool of users, larger than the one that would be reached only by communication from official company channels, raising awareness and recognition of the organization.
Increased level of trust. When employees share company content, they connect to the content itself, giving it an authentic human face and feeling. This humanization of communication is at the heart of customer loyalty and retention, who no longer feel connected to a "faceless" organization, but to another human being.
Improved employee engagement and employee-company interaction.

An analysis conducted by Gallup

shows that work groups with high levels of engagement are almost twice as likely to be successful in terms of customers, retention, safety, and quality. Improved employee engagement has a positive impact on absenteeism, productivity, employee turnover, customer evaluation, sales and profitability-all results from the fact that better engagement coincides with more optimistic, inspired and connected employees.
Growth in employee accountability. Employees become storytellers of the company's reality, creating content that generates conversations around issues that are sensitive to their professional sector. Employee Advocacy programs, then, stimulate employees to take action on their social networks around issues that are highly relevant to their industry and that reflect positively on the organization they work for. Employees can frame this content in their authentic style and voice, and leverage it to get noticed. When employees are publicly well-informed, knowledgeable, and up to date in their field, they begin to emerge as thought leaders and establish their Personal Brand.
Talent acquisition and retention. According to LinkedIn research, companies with an Employee Advocacy program

are 58% more likely to attract new talent

. People want to be part of teams with thought leaders, and they want to work for organizations with great reputations. Employees have the ability and tools to make their jobs and careers look their best by working to enhance the company's image.
Increased leads, conversions, and sales. Employee advocacy leads to company-wide improvements in marketing, social selling, customer service, and customer retention. As direct sales now focus on social selling, sales teams are using social media to meet potential customers, interact with them and develop relationships that turn into sales. According to LinkedIn research, leads from employee advocacy convert 7 times more frequently than other types, and salespeople who share content are

45% more likely to meet or exceed their sales quotas

.
How to develop Employee Advocacy projects
The distinctiveness of Advocacy programs lies in their ability to closely relate the internal view to the external view. This dual view peculiar to OpenKnowledge, which stems directly from a deep understanding and knowledge of the different integrative dynamics between internal and external communication, allows us to design these strategies with eyes and approaches that are distinctive from programs that look only externally.
Giving employees the ability to post company content on their personal channels is an act of great trust. But it need not be an act of faith: the employees involved can and should be properly trained for their new role, and they need to be well aware of the risks of media exposure, especially in industries and contexts that are inherently sensitive. Therefore, Employee Advocacy needs a structured approach to maximize the benefits and minimize the risks associated with the activity. OpenKnowledge proposes a methodological framework that consists of four consequential phases (Ideation, Identification, Activation and Amplification) that generate functional content to feed the Employee Experience, enriching it and reinforcing the culture of involvement, respect and transparency; the framework is subject to constant measurement, to verify its efficiency and in order to be able to make any changes in line with project needs.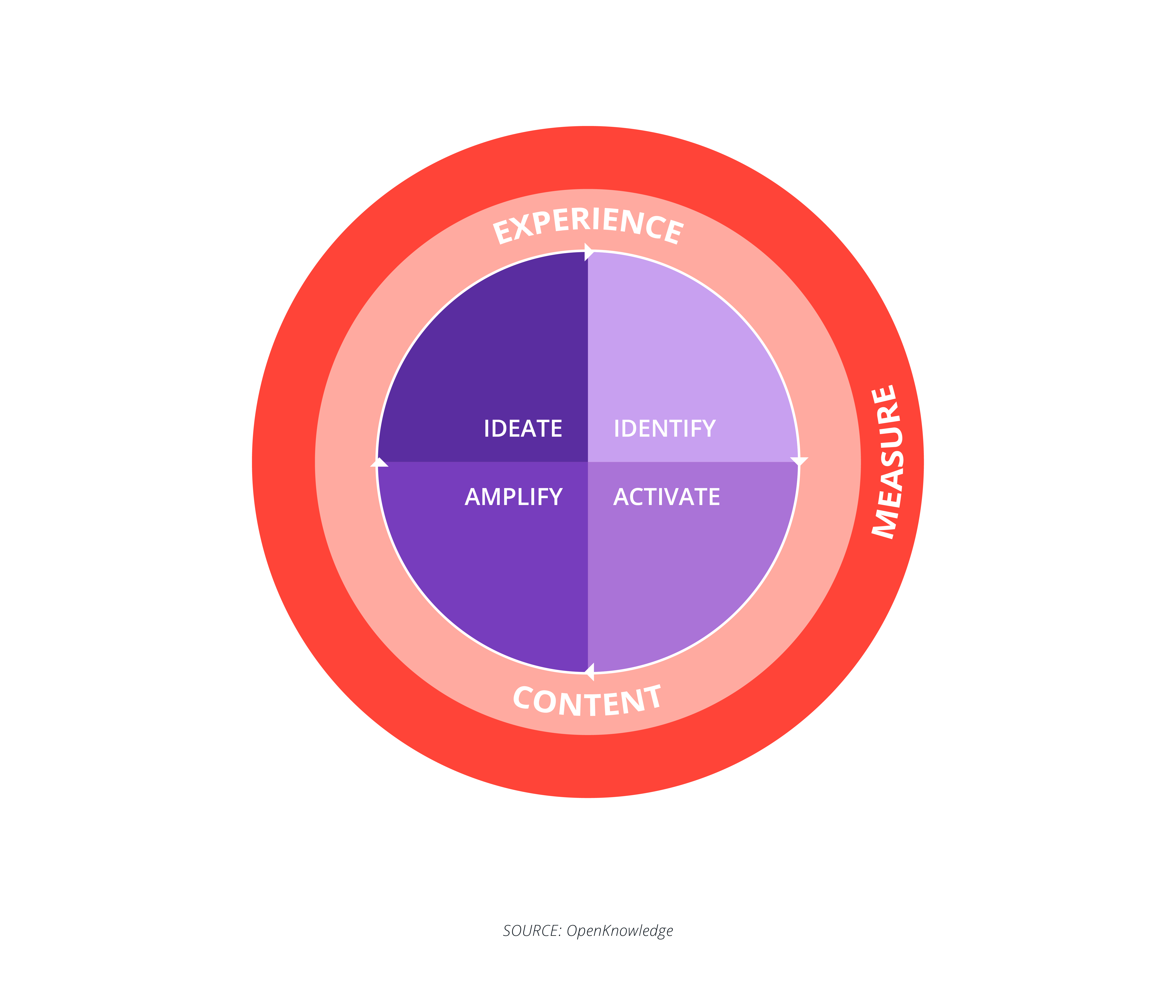 The first moment of work, which we have called "Ideate," encompasses a series of preparatory actions that allow us to understand the business context in which we are moving and to investigate culture, modus operandi, communication and information processes within the company, as well as to map the people who could be the Advocates of the project. We can use qualitative and quantitative survey tools and moments for this purpose, such as interviews with the leadership team to map the project's purpose and listening workshops to map the cultural and value elements of the company with all stakeholders involved (which are often at least internal communication, external communication, HR, to which marketing may be added). At this stage, to better understand the state of the art with respect to the mindset and tools for digitization we can also consider launching a Digital Readiness survey on the entire population.
Having understood the context and how the project is going to dovetail with the goals of positioning the company as an Employer, we move on to phase two, "Identify," of mapping possible Advocates, which can be done through a qualitative mode name collection or by leveraging the can of data through surveys or Organizational Network Analysis.
The first two phases, as per the model, pay more attention to the experience we are going to build for the Advocates and provide a higher and more strategic view of the design. Here we envision the kind of people we would like to engage, who bring with them a range of attitudes and characteristics:
● 
Knowledge. It is essential that an Advocate be familiar with the initiatives promoted by their company, that they are always aligned with what is happening, in order to provide reliable and timely responses.
● 
Kindness, inclusiveness, and openness to discussion. Respect and politeness are the basis of any exchange. An Advocate's messages must always take into account a broad audience, be inclusive, and respect everyone's opinions, views, and views without having a judgmental look and approach.
● 
Ability to convey concepts. Last, but not least: avoid superficiality. An Advocate must never provide answers that may, in any way, come across as hasty or shallow, and must always make sure to write correctly, both in syntax, grammar, and spelling.
The next two steps focus more on the content dimension as a grounding of the experience and onboarding work carried out in steps 1 and 2: we speak in step 3 of a real activation of the Advocates, who can contribute to the company's communication and positioning plan, as well as continue the process of onboarding, training, and co-creation of content. This step, "Activate," is when the identified collaborators begin to act out their role with awareness, and in concert with the actions the company has already planned to engage its internal and external audience.
Finally, the fourth "Amplify" phase is one of reinforcement and continuous improvement: the message is monitored in its impacts and can be amplified through the breadth of the employees' network and their credibility. This coincides with the direct transmission of messages by employees within their own network, which, as mentioned earlier, gathers and accommodates a potentially larger pool of users than that reached solely by official company pages.
Engaging employees through these four steps allows us to support Employer Branding and enhance the company's reputation, increasing its attractiveness to potential candidates and especially new talent by going out and incisively communicating the organization's characteristics, both instrumental and symbolic, including primarily its values. According to a research conducted by CR Magazine, 92% of people would consider changing jobs if they were offered a role at a company with a good reputation, which is why it is increasingly important to be able to answer the question, "Why is your company a good place to work?" Employee Advocacy contributes precisely to this:
1
Improve brand perception not only to potential candidates but also to potential consumers, in case the two categories of people are overlapping or partially overlapping;
2
Improve the Employee Experience, i.e., the experience of those who are already within the company and increase their sense of belonging, improving productivity;
3
Improve talent retention by taking action on an effective EVP (Employee Value Proposition), and thus on the value that the employer offers to its employees.
What has been discussed so far represents an area of opportunity for organizations that can be transformed into concrete benefits, i.e., quantifiable value. To take full advantage of the possibilities that technological developments and evolving ways of communicating have also made available, however, it is necessary for organizations to reflect on their relationship with employees honestly and willingly, listening to their people to build with them a path of mutual enhancement.
Every company should ask itself, "Are employees clear on what the organization's strategy and core values are? Do they share them and feel part of a common project?" This is the starting point for initiating a path of engagement that, in its highest expression, can be translated into Employee Advocacy and thus into a new communication strategy for one's reality that starts from the voice of those who first help shape it: people.
Mascia Mazzanti, Giorgia Monti