A tool for kickstarting reflections on organizational transformation
OK Activation Canvas: a tool for kickstarting reflections on organizational transformation
The last two years have taught us how important it is for organizations to learn how to navigate change, dealing with uncertainty with a positive and constructive attitude. This capability is necessary for business continuity. It manifests itself through the expression of efficient leadership, the ability to master the firm's complex systems, increasingly more granular at the geographic level, heterogeneous on a generational level, and characterized by new sets of ambitions, expectations, and work discretion.
We believe that, concerning their internal reality and external context, organizations should know how to evolve and grow. Thus, it is crucial to adopt a transformative mindset, a new attitude towards innovation and digital, accompanied by the human development of its people. Favoring this attitude towards change is the challenge that companies deal with today and is part of our job. For this reason, we have decided to publicly share the OK Activation Canvas. This is a tool dedicated to those – inside organizations – who are thinking about the necessity for evolution and change, wishing to be supported in the high-level design of a transformation strategy oriented towards resilience.
The canvas derives from the approach that we have when looking at companies. For OpenKnowledge, organizations are complex systems, characterized by four essential areas: technology, spaces, mindset, and processes.
We observe these systems through a people-centric perspective. From the point of view of people and their experience, knowing that change and transformations are for us both human and digital, can be generated by leveraging three forces of action that we call Evolve&Change, Unlearn&Learn, Communicate&Engage.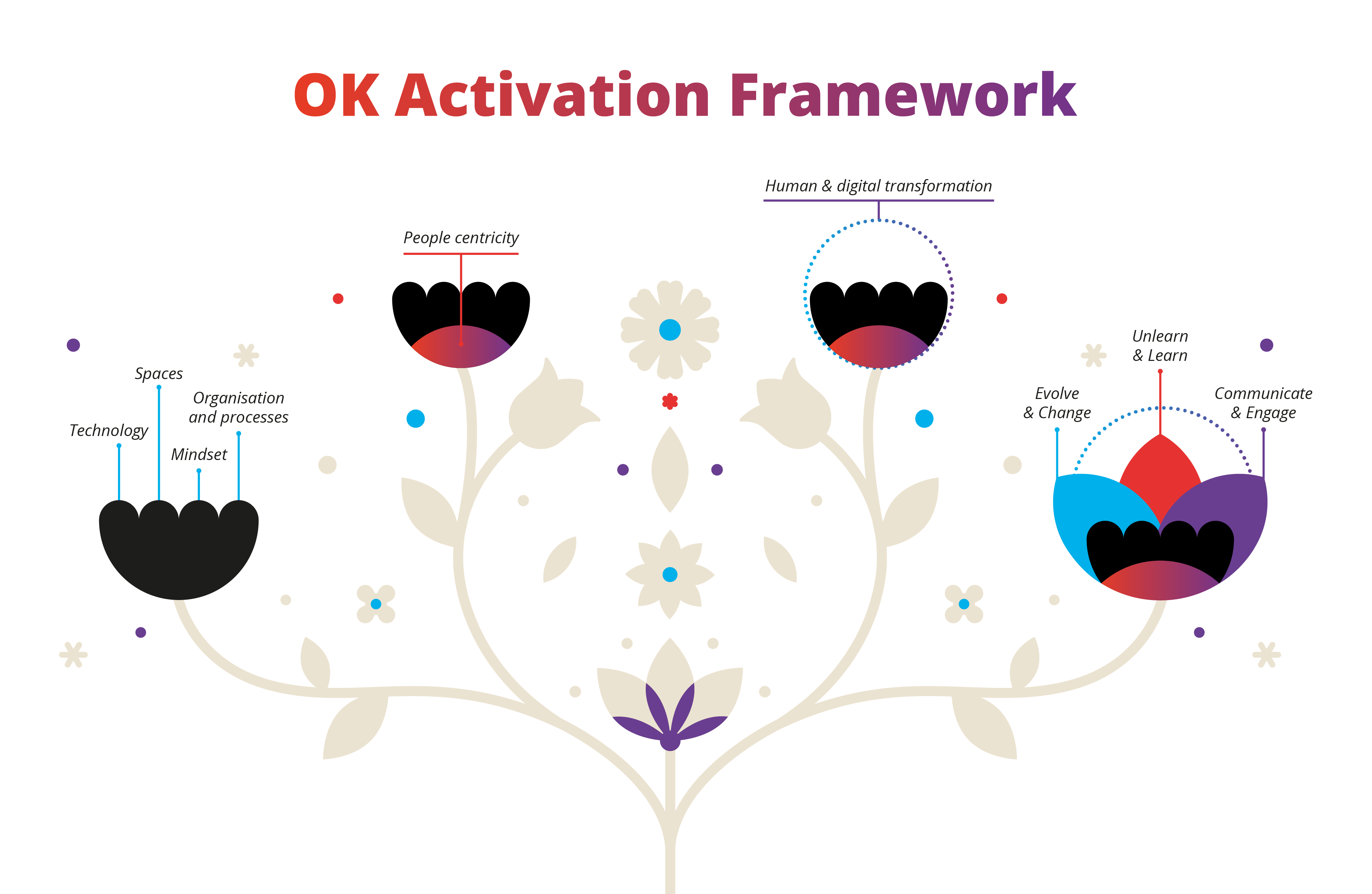 Adopting these principles as our guide for co-designing, the OK Activation Canvas allows the definition of a high-level strategy for transformation across thanks to 5 steps:
Recognizing the organizational change in place

– The first step to take is for who decides to engage in studying its transformation is defining the change. The context is the same for any organization, but each is influenced by and reacts to it uniquely, according to their peculiarities and the uniqueness of each system. It is therefore important to reflect upon the specific meaning of change, through the reflections of the stakeholders in the company transformation, reaching a shared definition of what is relevant.

Qualifying the desired organizational transformation

– Having created a shared definition for change, it's as much important to reach an agreement on the meaning of the transformation in the specific context, both on a theoretical and practical level. Therefore, what is the shared meaning of the journey we want to engage in? What does transformation mean in terms of objectives and concrete results?

Recognizing the strategic value of people-centricity

– In OpenKnowledge, we work on change starting from the people's point of view, both individually and in their groups, looking at the network of relations, aptitudes, and behaviors through which each company system lives. Adopting a people-centric perspective is strategic in the transformation journeys, however, each organization needs to comprehend how to utilize this lever according to its characteristics. Therefore, what we consider being necessary in our work process goes along the lines of having a moment of reflection, agreement, and sharing of the specific meaning of people centricity.

Enabling change

– Once the objectives and perspectives towards the challenge have been understood, we think that change needs to be translated into actions following three forces: Evolve&Change, Unlearn&Learn, Communicate&Engage. To each of these points, corresponds a question that the people involved in the office need to answer: what must we do to evolve and transform? What do we need to learn and unlearn? What do we have to communicate and on what do we have to create engagement?

And how, in everyday practice, do we do this?

Evolving the organizational dimensions

– The last step necessary to set a strategy for change is to comprehend how the actions, previously identified, are executed in daily reality, through the evolution of the organizational dimensions. How is technology going to evolve? What about the spaces?

How will the mindset change? And the process?
Lastly, it is important to remember that the success of a transformation project depends on recognizing the necessary time to execute and deliver one's action. For this reason, in the conclusion of the Canvas, we are proposing to compare to the strategic setting activity a planning moment, that defines a high-level intervention roadmap, to help people guide the initiatives towards prefixed objectives.
The OK Activation Canvas encourages organizations to activate a reflection on change. The target we are thinking about is not specific, as this kind of reflection can sprout from leadership as well as from work teams. We suggest involving as many stakeholders necessary to represent the forces that, inside the organization, contribute to the definition of a change journey, as the IT and HR functions.
There are multiple specific uses of the canvas. It can be used as a conversation guide or as a tool to involve a larger plethora in an internal workshop, to align the parts involved and to stimulate the strategic reflection towards the future, or to guide a session to analyze a previous journey.
We think that starting a reflection on change should be an easy activity. We have decided to share the OK Activation Canvas both in PDF and on Miro, so that teams can immediately start collaborating, also in hybrid modalities, towards the transformation and construction of resilient organizations.
In both cases, the canvas is composed of 6 macro-activities, each of them corresponding to one of the steps we have described. Each activity is guided by a set of questions, that help orient the work towards the objectives.
We are sharing this tool to allow anyone who wishes, to start designing autonomously the way towards change, but we are happy to support you in this journey if you wish to.
Do you need help?
Contact us here to book an orientation session on how to use the tool in your company or to organize a workshop to reflect, together with your team and moderated by our facilitators, on change in your company.
Authors: Silvia Ferrari, Sofia Muscianisi e Chiara Leonardi