Progettare sistemi complessi:
le sfide delle platfirm
Le piattaforme non sono semplici prodotti, ma sistemi complessi la cui progettazione mette alla prova anche i designer più esperti.  
Airbnb, Amazon, Alibaba, Google e gli altri giganti che da anni dominano la scena del mercato globale ci hanno insegnato che il modello di business a piattaforma è il modello che meglio si adatta al contesto competitivo dei nostri tempi e alle attuali aspettative dei consumatori. E questo è vero non solo quando si parla di social media o e-commerce, ma anche in ambito bancario, assicurativo, dell'healthcare, della logistica e, in generale, in qualsiasi settore economico legato ai servizi. 
Affascinate dai protagonisti del mercato e consapevoli delle potenzialità di questa transizione, sono sempre più le aziende che scelgono di riprogettare i propri servizi e il proprio business per adottare il modello delle Platfirm.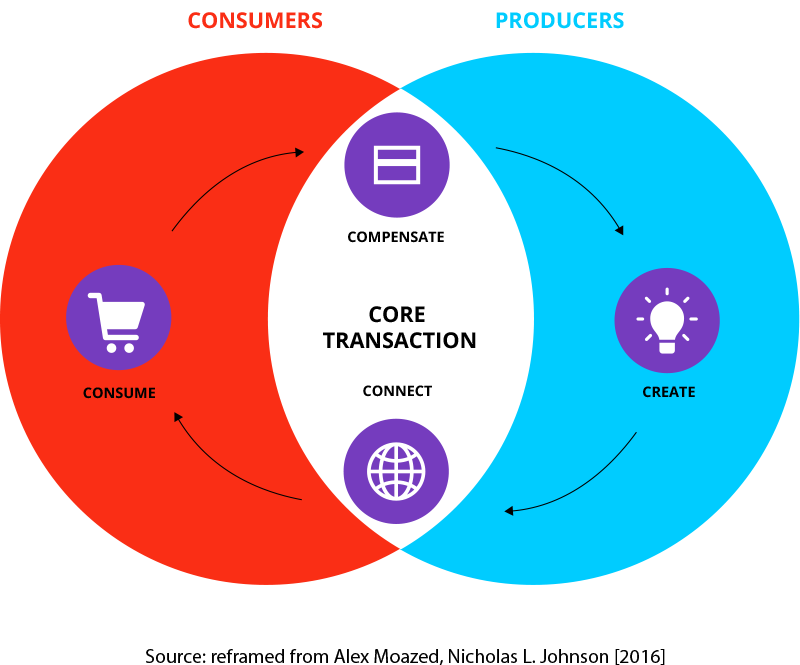 Progettare una piattaforma di successo significa ideare un modello in grado di stabilire una relazione tra attori che hanno esigenze diverse, contrapposte e complementari, proporre una soluzione semplice per rispondere ad esigenze complesse, offrire un'esperienza positiva e memorabile e assicurare che il modello generi un profitto per chi decide di implementarlo. Il rischio in questi casi è quello di perdere per strada alcuni pezzi del puzzle e comporre una soluzione perfetta sulla carta ma completamente inadatta a reggere l'urto con la realtà del mercato. Come fare a progettare una piattaforma realmente efficace?  
Il contesto guida la progettazione
Per progettare una piattaforma di successo è innanzitutto necessario comprendere il contesto in cui essa dovrà inserirsi. In questo caso, possiamo intendere il contesto come l'unione di tre grandi elementi:  
la

 realtà a

zienda

le

 

che offrirà il servizio-piattaforma

, con il suo modello di business, i suoi stakeholder e le dinamiche interne ed esterne; 

il

 

mercato 

in cui la piattaforma si inserirà,

 

i suoi attori, le sue peculiarità

 e le sue aspettative;

i

 

trend del settore

, che tracciano la direzione del presente e del futuro

.

 
Mettiti nei panni di chi userà il servizio
Parlare di approccio human centered in questi casi è quasi scontato: quello che non è scontato è applicarlo per davvero. È importante pensare al metodo più adatto per entrare in contatto con le persone che utilizzeranno il servizio per scoprire le loro esigenze, abitudini e aspettative. Così come è fondamentale coinvolgere chi il servizio dovrà erogarlo e gestirlo per comprendere tutti gli aspetti necessari a renderlo realmente funzionante. 
La migliore idea possibile non serve a niente
"If you're not embarrassed by the first version of your product, you've launched too late."  
Il celebre consiglio di Reid Hoffman vale anche nel nostro caso. Il rischio, quando si progetta un sistema complesso come quello di una piattaforma è infatti quello di provare a definire fin da subito i minimi dettagli di ogni piccolo tassello che compone l'idea. Il nostro consiglio è invece quello di approcciare l'ideazione e la successiva fase di progettazione applicando qualcosa di molto simile alla metodologia Lean per le Startup: uscire in tempi brevi con una proposta per il servizio-piattaforma, testarla e migliorarla in corsa per arrivare passo dopo passo a costruire la migliore versione del servizio.  
Progetta un sistema, non solo un prodotto
Anche se spesso il cuore di un servizio-piattaforma è un sito web o un'applicazione, è fondamentale non perdere mai di vista l'immagine completa di ciò che stiamo facendo. E se da un lato è giusto non rimanere paralizzati nella fase di ideazione, dall'altro lato è necessario pensare a tutti gli aspetti fondamentali per il funzionamento del servizio. 
Un service blueprint ben costruito risulta molto utile a questo scopo. Il service blueprint è infatti uno strumento che consente di mappare con puntualità le fasi operative del servizio, evidenziando ciò che è visibile all'utente (l'esperienza front-end) e ciò che non lo è ma è necessario per il funzionamento del servizio stesso (i processi e l'esperienza back-end). Avere questa mappa a portata di mano permette di analizzare e comprendere gli aspetti del sistema sui quali è opportuno concentrarsi.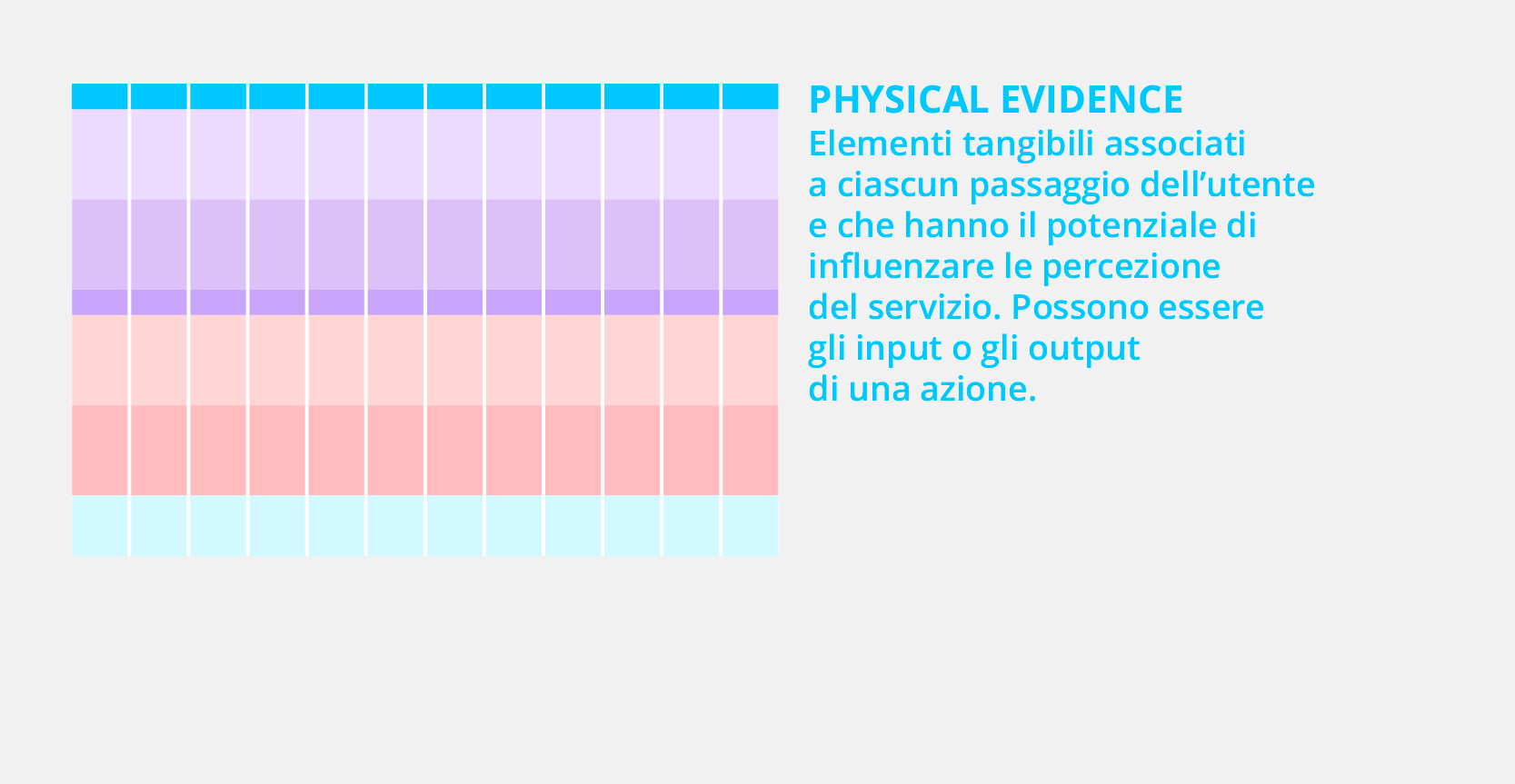 È tutto inutile senza un modello di business
"Ok, l'idea è bella, ma come ci guadagno?" 
Una piattaforma di successo, come dicevamo, deve riuscire a generare un profitto per chi decide di implementarla. E questo profitto deve essere generato offrendo un servizio che le persone ritengono utile e conveniente, e offrendo un valore concreto al network che si occuperà di erogarlo. 
Il co-design è il miglior alleato
L'imperativo è progettare per le persone, insieme alle persone. E questo vale sia quando si tratta di clienti che di utenti finali del servizio. Lavorare a stretto contatto con i clienti consente di avere sempre la certezza di operare nella direzione giusta prendere insieme le decisioni più importanti. Lavorare a stretto contatto con gli utenti finali permette di progettare qualcosa che verrà realmente utilizzato perché aderirà alle loro aspettative. 
Tenere a mente questi concetti è una buona base di partenza per la progettazione di una Platfirm di successo. Un ultimo ingrediente segreto è un team dedicato e multidisciplinare, in grado di gestire in maniera coordinata tutti gli aspetti del sistema per vincere la sfida della complessità.