Employee Social Responsibility
Employee participation in the company's sustainability strategy
  
In 2015, the United Nations signed a global framework on sustainability called the 2030 Agenda for Sustainable Development. A milestone that has inspired institutions, citizens, public and private companies to implement strategies to make social responsibility a core component of long and short term planning and actions.
Talking about corporate social responsibility means talking about projects with tangible social and environmental impacts, and virtuous actions for the greater good.
This article wishes to take the argument one step further and answer the question: what would happen if, within institutions and companies, employees were to become the main contributors and co-authors to the sustainability strategy? How conscious are companies that their people want to be increasingly questioned and involved in the discussion as well as the decision making on these topics?
Employees' direct involvement in defining Corporate sustainability policies involves turning the workforce into a driving agent of change capable of generating social and economic value.
OpenKnowledge has envisioned a new integrated approach to sustainability, called the "Employee Social Responsibility". The goals of the framework are twofold: on the one hand, to translate the potential that resides within employees' participation into a more effective sustainability strategy supported by all stakeholders within the organization. On the other hand, to empower employees to take part in the decision-making process.
From brand activism to employee activism: a blue ocean for organizations
Talking about social responsibility means considering three dimensions: respect for the environment (Environmental), attention to social implications (Social), and management habits inspired by good practices and ethical principles (Governance).
According to the ESG framework, profit is embedded in the concept of sustainability, and is never at odds with environmental protection or social inclusion.
ESG factors are an area of opportunity for organizations to attract investments and more. Corporate reputation (49 %) and talent attraction and retention also appear to be strongly related to companies' consideration on sustainability.
Data show that younger generations positively relate to companies that invest in sustainability. One-third of millennials and 19% of Generation Z declared to have taken into consideration ESG factors in investment decisions and when evaluating an employer. 67% said that the main criteria for choosing an employer or for choosing whether to stay or leave a company are growth perspective and inclusion policies. 63% went even further and declared their main criteria to be social, environmental, and gender equality. Finally, 60% of respondents said that promoting diversity is of fundamental importance for an employer.
Moreover, a company's purpose is nowadays a consideration of utmost importance and "the most powerful tool available to organizations to meet the intrinsic needs of new talent" (World Economic Forum). In a LinkedIn survey, 52% of candidates said they wouldn't accept a job offer if they didn't know or share a company's mission and vision.
From a social responsibility point of view, purpose evolves into brand activism, defined as the organization's active participation in achieving the greater good. Not only compliance with profit-oriented ethical principles but a frame of actions and initiatives aimed at satisfying social needs, even as they exist outside of the product realm.
A rather important change in perspective, especially if we consider the capability of certain companies and brands to effectively integrate employees' willingness to contribute and participate in the overall strategy. Undeniably, employees all around the world are looking for workplaces that express a culture in line with their personal beliefs; they want to be and feel part of the organization and are ready to mobilize in order to influence their company's policies. We can see this as a new and spontaneous form of activism: employee activism.
The biggest drivers of this phenomenon are young people; research conducted by Weber Shandwick, a global communications and marketing company, investigated employees' perceptions of their own activism. Among the sample, 72% of millennials interviewed said they can generate social change through their own actions and, partly because of this, feel more determined to take up social responsibilities than older people.
Other case studies exemplify the magnitude of this phenomenon, for example: 32,000 French students from more than 300 universities signed a pledge to work only for environmentally conscious companies. More than 1,000 Google employees worldwide staged a protest demonstration against the misconduct and lack of transparency of their organization, which they held responsible for not meeting shared goals. A group of Amazon's employees took a very strict and firm stand against the environmental impacts caused by the company.
ESR: employee's central role in defining business strategy
Employee activism and their willingness to participate, if adequately addressed, can bring businesses a competitive advantage: choosing to integrate employees into sustainability decisions represents an opportunity that can result in a more effective sustainable strategy and in a higher level of engagement. However, an evolution of the classic modus operandi is in order when it comes to the social components of sustainability.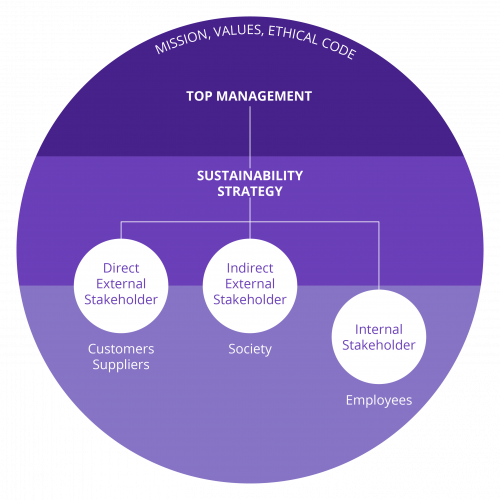 First, top-down planning and development of sustainability strategy, as the most adopted way of doing things, is a thing of the past. And top management taking decisions that impact at all levels of the organization, including all kinds of stakeholders, who are left as nothing but passive subjects within the process, can no longer be the normal course of action. Also, the usual duality between external stakeholders (companies, lenders, customers) and internal stakeholders (employees) is the result of a very limited way of thinking that gives only external stakeholders power to influence the economic success of the company, and needs to adapt to the new context;
It is today rather unrealistic to think about internal and external dimensions as separated. On the contrary, a strong interdependence exists between the two, and both have crucial impacts on the company's economic results.
Considering these new scenarios and the opportunities arising from the direct involvement of employees, as previously discussed, evolving the traditional approach to sustainability into a more participatory model, called the Employee Social Responsibility, has become strategically essential.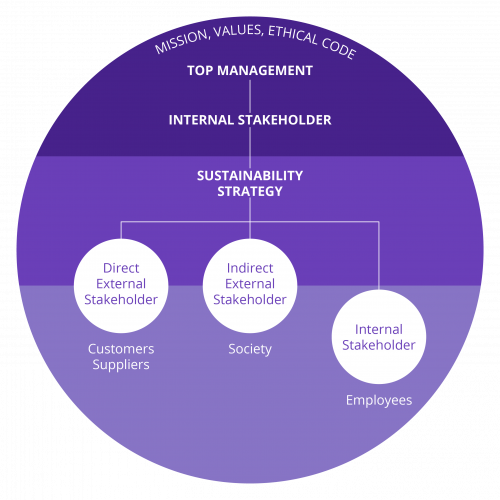 Figure 2 shows how the position of employees in the strategy development process changes, as their role evolves, and they start to contribute to the design and development of the overall sustainability strategy.
In the proposed model, listening is of crucial importance as it activates and engages people. By bringing them on board the process at an early stage and by understanding their motivations for wanting to contribute, companies can create a new course of action.
The first step in the roadmap is precisely to understand As-Is' status and the position of employees with regards to sustainability. Through a survey, we measure the level of preparation and interest of employees on sustainability issues and capture their willingness to put virtuous behaviors into practice and advocate them to others. At the same time, management is listened to in order to define the vision, that is, the positioning of the organization for the future and in relation to social responsibility issues.
The analysis, therefore, starts with an understanding phase to map the situation AS-IS, as well as the feelings of the workforce on sustainability. First, we measure the level of preparation and interest of the workforce with a survey that captures their willingness to actively engage in virtuous behaviors and practices and advocate them to others. Secondly, we define top management's vision of the future (TO-BE) in relation to social responsibility issues.
This analysis sheds light on a set of company's priorities. Step two is to define a set of medium-term sustainability goals to focus on, and to design a roadmap to achieve them. Employees are involved in co-design workshops and methodologies to define not only the priorities and actions, but also the communication and engagement initiatives through which the strategy will be implemented.
The engagement initiatives on sustainability encompass a phase in which employees are provided with basic information and communication to generate awareness, and then a second step where they are involved into more collaborative initiatives. For example, in phase one, complex data can be simplified and made understandable by the larger public through information design techniques. Whereas in phase two, a wide variety of engagement activities are implemented: sustainability events, Sustainability Manifesto workshops, engagement or gamified learning paths, etc to enable internalization of the most relevant aspects of the project.
This path of gradual activation reaches its high point when the values of sustainability in the organizational context are made tangible by its people, who spontaneously enact virtuous behaviors, for example by becoming creators of new sustainable solutions (idea generation) and advocates of those values to others (employee ambassadorship).
Organizations are faced with ever-new challenges and opportunities. Among the most significant dynamics today, one cannot fail to consider employees' desire for active participation, all-around involvement, the stronger the more relevant and heartfelt the issues at stake. Knowing how to integrate the active participation of employees in decision-making processes related to social responsibility constitutes a strategic lever for creating alignment between the organization and its people and for generating engagement, both of which are fundamental elements for facing the present with a spirit of community and moving forward together, in the same direction.
Bibliography and sitography
C. Sarkar

, 

P. Kotler

, Brand Activism. From purpose to action, 2018
Indagine Osservatorio Giovani per Sofidel, 2021
Mascia Mazzanti e Evelyne Rossi