Skillmapping, Design and skills hybridization
Mapping competencies and organizations: towards an hybrid model between design and employee caring
  
OpenKnowledge has always been concerned with organizations, people and how technology, and the expectations of a constantly changing market, impact the way interactions and value generation are managed. 
 
The current pandemic has highlighted how, to face the increase in complexity and the new context, it is necessary to understand the historical moment and knowing how to adapt, in everyday life but also within companies, pushing people to adopt new lifestyles and new approaches to work.
High turnover rates are the proof that new factors deriving from the pandemic are influencing the choice of working environment and are acquiring a central role in the decision to either stay or change working reality: as a matter of fact, those who work no longer want to give up the new style of life and the new possibilities that have emerged in this particular historical moment.
So, in this new way of working era, companies are required to get involved and to innovate their employee experience through caring initiatives, to gain more satisfaction and retention. A current example is represented by activating and supporting upskilling initiatives, creating a double advantage: enduring industry competitiveness both as a company and as professionals.
Multidisciplinarity as the key to new challenges
The profile of the new skilled worker is becoming more and more multidisciplinary, both in the training courses that will lead to his/her/their professional growth and in the projects they are involved in, creating contaminated and increasingly hybrid work groups. 
 
Teams made up of various professionals become central to design solutions: the different skills brought together in a single group allow the dialogue between different points of view and, as a result, a wider and more global awareness of the work needs. 
 
Openknowledge has always proposed multidisciplinary teams to satisfy the requests of customers belonging to different industries, and to show how the diversity of skills, combined with collaboration, brings added value.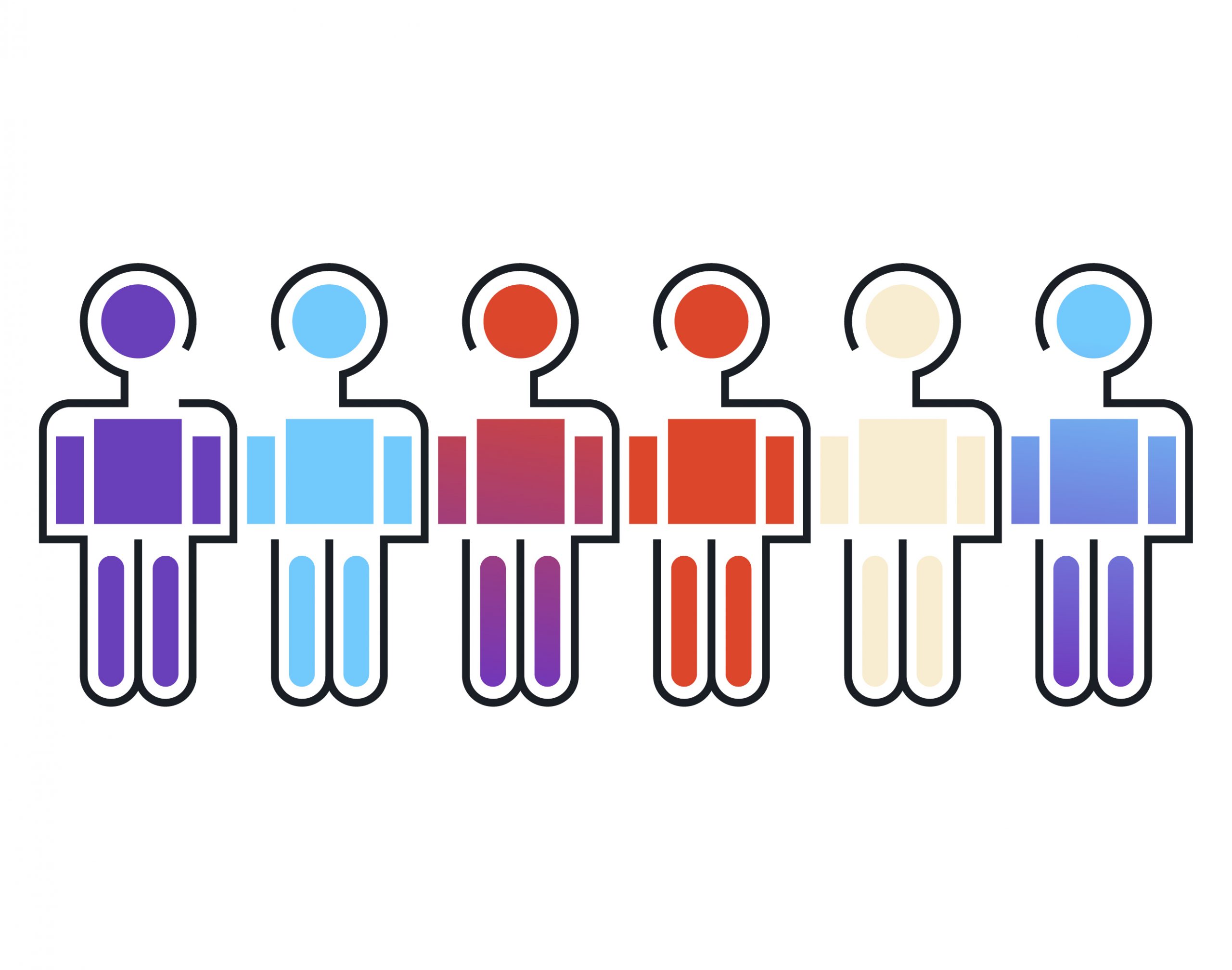 Especially in contexts where design and consultancy intertwine, making available people that have contaminated each other in time, collaborating with different technical skills, allows for a more fluid approach to projects. Avoiding the project fragmentation caused by the complex communication between competencies. As a matter of fact, a multidisciplinary and contaminated designer will be able to design with an olistic vision, and this approach will help them to better communicate with the other professionals involved. (1)
Thus, the team faces the solution-to-be considering the different needs and constraints of each domain (from development, to the graphic interface, content), providing a cohesive output from the get-go, and increasing the quality of the projects developed for the customers.
But how is it possible to define the job profile of own team members with precision? How can we understand the individual's strengths and weaknesses to get a global overview of the internal skillset in order to create balanced project teams for customers?
There are different methodologies and frameworks to achieve this goal, one of them is skill mapping.
Skillmapping at the service of design
Skill mapping is the methodology that allows to visualize strengths and weaknesses about own hard and soft skills. This mapping helps to know oneself, to become aware of one's professional skill set. It's an excellent point of reflection on one's skills and learning opportunities. Extended to the work group, it allows to understand the polarization of skills in team composition, in order to create a training paths to expand and contaminate the different profiles. 
The skill map has the form of a radar chart, where the axes correspond to possible skills that the person may have. The value on each axis represents the level of competence for the corresponding skill, from the value of 0 (not very competent) to the value of 3 (very competent). (2)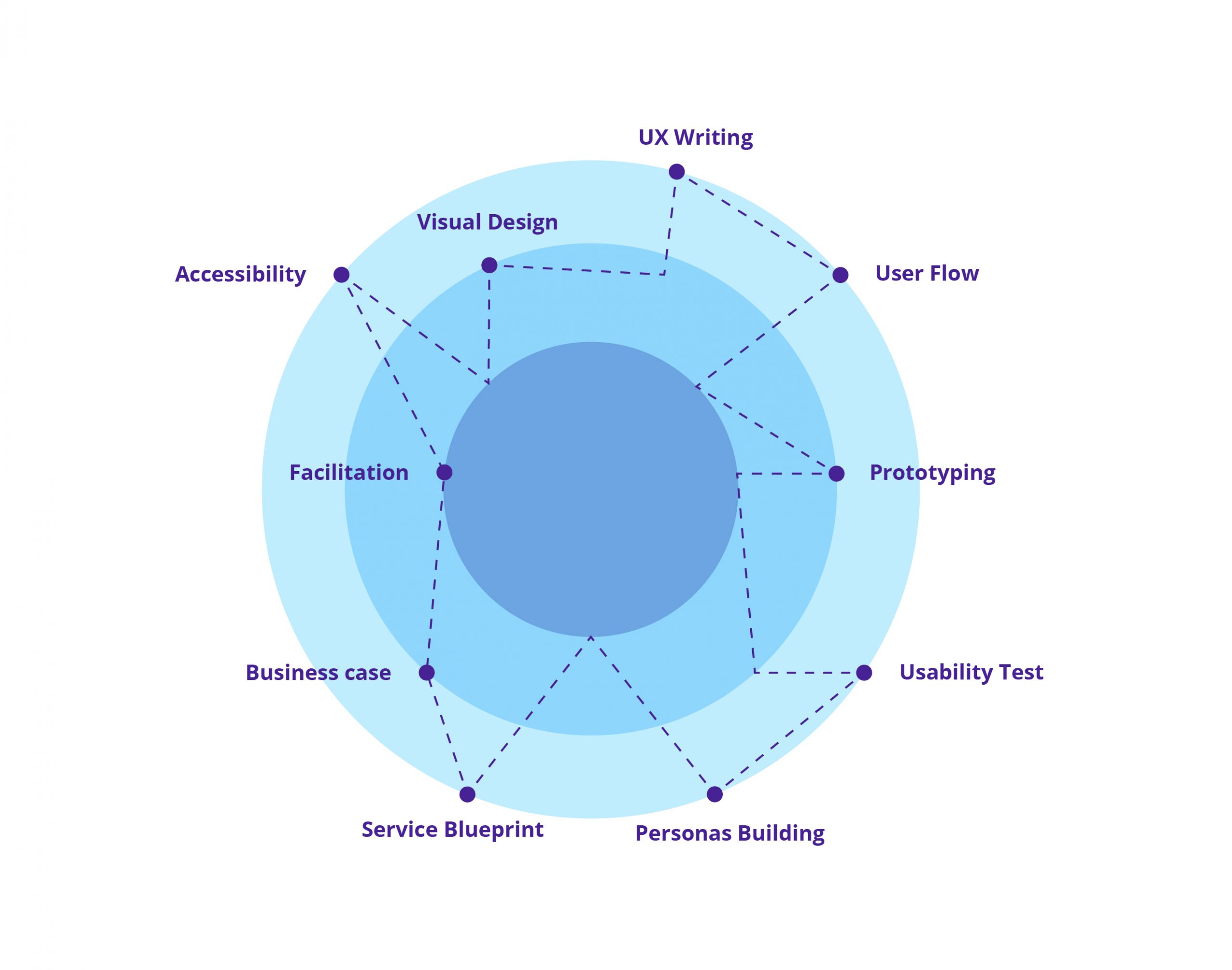 Considering Experience Design, for example, hard skills, ie the more technical ones, could be "prototyping", "visual design" and "user research". Soft skills, that are the more personal and transversal ones, could instead be "good communication", "autonomy" and "adaptability". If all team members evaluate their skills using the same value scale, you will get a general skill map in which each member will have specific characteristics expressed by a certain value. 
Skill map as employee caring
The skill map can also be a useful tool for tracking the progression of one's skills over time: by comparing recent skill maps with a to-be vision towards the future, it is possible to build professional growth paths with people by focusing on individual preferences and considering market trends.
Training in OK is constant: weekly meetings allow you to catch up with each other, getting to know the new trends or issues that some team members are passionate about. From accessibility to inclusivity, from specific case studies to new design tools: there is no lack of opportunity to discover brilliant news and explore well-known topics, confronting different opinions to stimulate a conversation that brings new points of view.
How can a framework like skill mapping impact the present and draw a path towards the best collaboration of the future?
Experience Design Hub: towards a fluid collaboration
This activity cannot be considered just an exercise in awareness, it cannot be something that is used only once a year to update one's skill-set. 
The skills management process must be as adaptable, responsive but above all as fluid as team members are, and it is essential that the skill matrix is never treated as a static document. (3)
It is no secret that nowadays we need a variety of skills and a transversal knowledge of competencies that contribute to the definition of the same goal. In the field of Design, specifically of Experience Design, there is the need to have a foundation of various skills, because UX, UI, UX writing and Service are disciplines that must communicate with each other and collaborate to generate a unique, solid and complete deliverable.
To facilitate this mission, the vertical skills of various professionals must expand and contaminate with those of others, a hybridization that considers the limits and peculiarities of each discipline involved during each design flow. 
 
More than a static photograph, more than a reference tool, skill mapping must be considered as a force for change, for transversal knowledge of the different skills involved in projects, a push towards fluid collaboration. (4)
Michele Antonelli
, Fabio Satriano, Valentina Marana