There is a method in our being fluid. We make things happen by using a systemic approach made of contamination and heterogeneity.
Moving with fluidity does not mean acting without landmarks but getting a dynamic pattern that enhances flexibility.
For this reason, we have built an operating pattern which transforms itself together with us.
Something that, thanks to our different expertise, we can analyse to get significant and successful indicators.
A circular pattern, where all dimensions are equally important: each of them gets involved differently, according to the project to be carried out.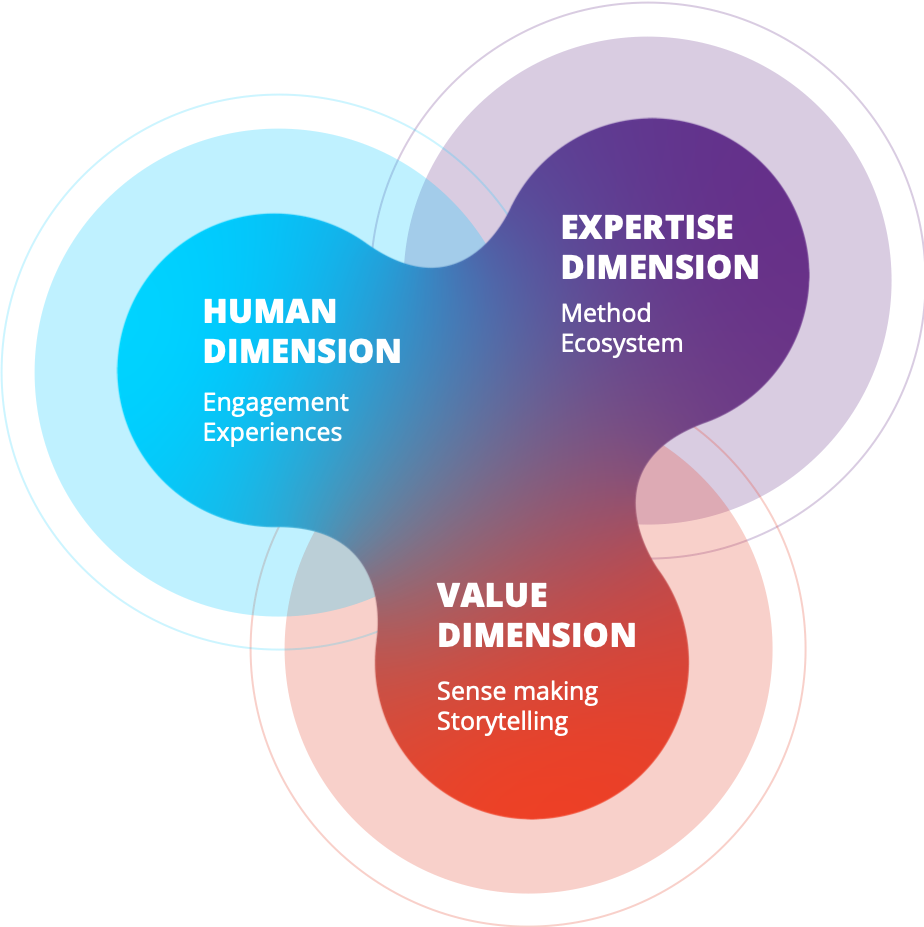 It is the set of
skills
needed to achieve the ultimate goal, ensuring an
agile
approach
.
Method
:
thanks to our

 
heterogeneity
,

 
we

 
can develop
 

tailor
-made
methods
 

for

 
customer's needs
.
Ecosystem: we see how companies are now doing business by studying coherent actions and solutions for their reference system.
We work together
with
people
and
for
people
, studying activities to
increase
the
value
of solutions.
Engagement
:
we involve people (e
mployees and customers)

 
and put
 

them

 
at the core
 

of

 
the
transformation
.
Experience: we make experiences capable of going beyond projects and guaranteeing a direct impact on working life. 
We deal with how projects and benefits are
told
and
perceived
by people inside and outside the organisation.
Sense Making
:
we give

 
a sense to

 
the

 
experiences we

 
make
,

 
allowing
 

you to

 
live them

 
and
 

feel their value.
Storytelling: we communicate and enhance what we do through creative and engaging storytelling.