Travel in freedom, thank the new digital luggage storage
In a world in constant motion, the most current trend is the journey. And what can make it special? The freedom of movement. Thanks to BagMeDo project, we turned a luggage storage service into a digital platform, and we created a new brand inspired by the traveller experience.
We created a fresh, lively and free brand identity, in order to claim BagMeDo into the digital world, together with all values and the concreteness of luggage storage which today is known and used by millions of passengers.
Service design, strategy and product design
The design of the service and the development of the platform
How can we create bagmedo.com? We can do it through an in-depth study of expectations of user-traveller of today, the enhancement of start-up assets and the optimization of the offer: new services, a spread network and a one-click-away quality service.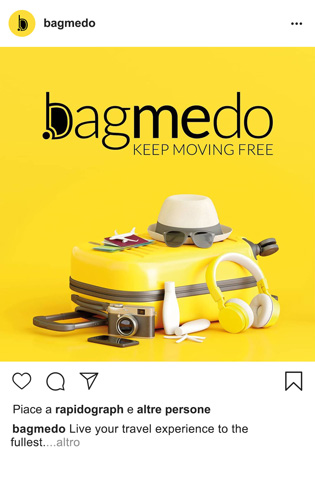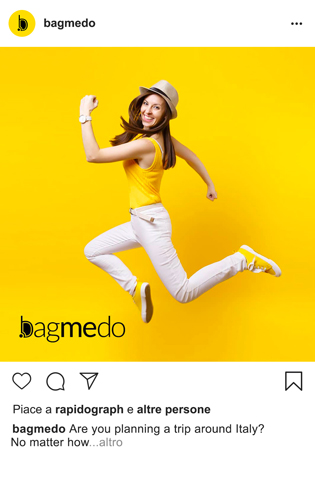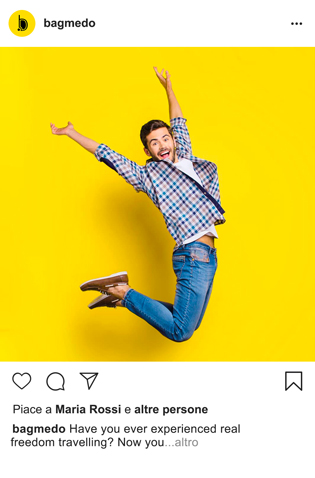 Facebook and Instagram become coloured with yellow
Today social networks are full of pictures and travel stories. With the aim to spread brand awareness, we planned instant marketing campaigns and editorials.
Travelling is a bounce of freedom
«Keep moving free»: the advertising campaign tells the traveller's experience. We choose the bounce to represent the highest expression of a free and light movement. We published our ADV campaign on LaFreccia magazine, intending to target our communication towards Trenitalia travellers.